The Observer Nicolas Sarkozy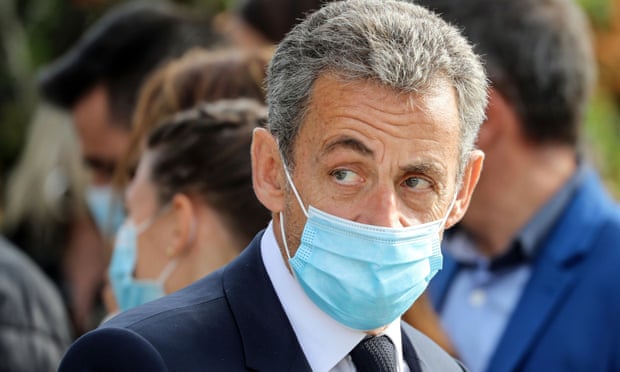 Kim Willsher in Paris
Sun 22 Nov 2020 09.00 GMT
The case is the first of several investigations against the rightwing politician who led France between 2007 and 2012 to come before judges after years of attempts to have the charges dropped or nullified.
In a case known as the "bugging affair", the prosecution alleges Sarkozy and his lawyer, Thierry Herzog, attempted to bribe a senior magistrate, Gilbert Azibert, to hand over secret information from a separate investigation against the former French leader. In return, Sarkozy is accused of offering to help secure Azibert a cushy job on the Côte d'Azur.
Sarkozy has been targeted in an array of legal investigations – from allegations of receiving illicit campaign funding from the late Libyan leader Muammar Gaddafi to receiving alleged kickbacks from arms sales to Pakistan.

French detectives began monitoring Sarkozy's communications in September 2013 as part of an investigation into claims he had a received an undeclared and illegal €50m donation from Gaddafi to fund his successful 2007 presidential campaign.
Aussi a lire aujourd'hui
Climate Change One of Biden's Top Priorities By Steve Baragona
November 22, 2020 02:45 AM
WASHINGTON – As President-elect Joe Biden prepares to take over the White House from President Donald Trump, experts anticipate a near-complete reversal on climate policy.
The Trump years have been marked by loosening regulations on fossil fuel producers, lowering efficiency standards for vehicles and appliances and disdain for international climate agreements. Even while dismissing climate change as a "hoax," Trump has repeatedly boasted that "From day one, my administration has made it a top priority to ensure that America has among the very cleanest air and cleanest water on the planet."
Biden, on the other hand, has named climate change one of the top priorities his administration will address immediately upon taking office.
The president-elect campaigned on a $1.7 trillion plan to transition to 100% clean energy sources by 2050. It is an approach that would permeate nearly every aspect of government and the economy with measures to gradually reduce greenhouse gas emissions that contribute to global warming.
Please follow and like us: