le Quotidien du Peuple en ligne | 26.01.2021 13h20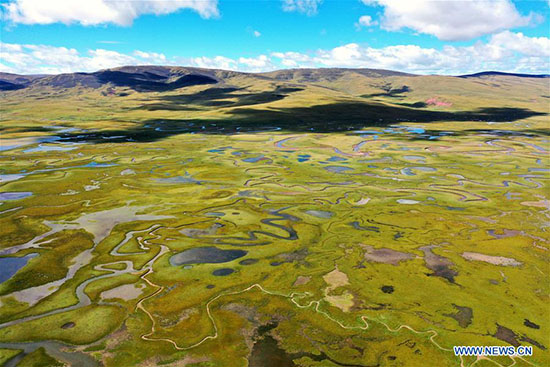 La région autonome du Tibet a placé près de la moitié de ses terres sous la surveillance écologique la plus stricte, a-t-il été annoncé lors d'une réunion annuelle de l'Assemblée populaire régionale, qui a débuté le 20 janvier.
Selon Qi Zhala, président du gouvernement régional, la zone de protection écologique, qui couvre plus de 539 000 kilomètres carrés, représente 45% de la superficie de la région.
De plus, a indiqué Qi Zhala dans son rapport de travail gouvernemental remis mercredi à la 4e session de la 11e Assemblée populaire régionale, le Tibet contrôle strictement l'excavation de sable dans ses 56 rivières clés, et 22 réserves écologiques ont été construites et sont opérationnelles.
---
Mother Jones-Earth Has Lost More Than 28 Trillion Tons of Ice Since 1994
New study finds melting on par with scientists' worst-case scenarios.
Fiona Harvey
Fight disinformation. Get a daily recap of the facts that matter. Sign up for the free Mother Jones newsletter.
This story was originally published by The Guardian and and is reproduced here as part of the Climate Desk collaboration.
The melting of ice across the planet is accelerating at a record rate, with the melting of the Greenland and Antarctic ice sheets speeding up the fastest, research has found.
The rate of loss is now in line with the worst-case scenarios of the Intergovernmental Panel on Climate Change, the world's leading authority on the climate, according to a paper published on Monday in the journal The Cryosphere.
Thomas Slater, lead author and research fellow at the Centre for Polar Observation and Modelling at the University of Leeds, warned that the consequences would be felt around the world. "Sea level rise on this scale will have very serious impacts on coastal communities this century," he said.
About 28 trillion tons of ice was lost between 1994 and 2017, which the authors of the paper calculate would be enough to put an ice sheet 100 meters thick across the UK. About two thirds of the ice loss was caused by the warming of the atmosphere, with about a third caused by the warming of the seas.
---
Please follow and like us: