Il y a de ces actes de barbarie qui nous interdisent le silence!
Alexandria Ocasio-Cortez: Confederate flag tied to door of Museum of Jewish Heritage
https://www.facebook.com/OcasioCortez/posts/3570020573088601
---
---
Alexandria Ocasio-Cortez: A lot of Ultimate right wing!
https://www.facebook.com/OcasioCortez/posts/3570055839751741
---
---
Save senators, save people!
---
Assistons-nous aux 10 plus longues journees de 2021?
Les elus americains doivent-ils attendre, beatement, que l'irreparable tragedie se produise? Cultivent-ils l'arrogance, l'Incertitude, le drame?
Il faut sortir de ce climat de torpeur… le syndrome de Stockholm les guettent tous. Un Gros, Gros, Tres Gros "WAKE UP".
---
Alexandria Ocasio-Cortez sur l'Attentisme en cours!
https://www.facebook.com/OcasioCortez/posts/3570059863084672
---
---
CNN-House Democrats ready impeachment vote this week
By Jeremy Herb, Manu Raju, Lauren Fox and Phil Mattingly, CNN
Updated 5:20 AM ET, Mon January 11, 2021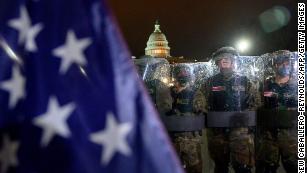 (CNN)House Democrats are barreling toward impeaching President Donald Trump for the second time over his role in inciting last week's riots at the US Capitol.

House Speaker Nancy Pelosi told House Democrats on Sunday evening that the House would proceed with bringing an impeachment resolution to the floor this week unless Vice President Mike Pence moves to invoke the 25th Amendment with a majority of the Cabinet to remove Trump from power.
Pelosi's letter was the first time she explicitly said that the House would take up impeachment on the floor this week, though it was clear that House Democrats have rapidly coalesced around an impeachment resolution in the days following the riots at the Capitol where five people died, including a US Capitol Police officer.

Pelosi said that House Majority Leader Steny Hoyer would seek to take up a resolution from Rep. Jamie Raskin of Maryland on Monday urging Pence and the Cabinet to invoke the 25th Amendment, and if they were blocked the House would consider the measure on Tuesday.

Democrats are calling on Pence to respond within 24 hours, she said. If that does not happen, Democrats will bring their impeachment resolution to the floor.

Timing of an impeachment vote is still fluid, though the expectation is it would happen on Wednesday.
Democratic Reps. David Cicilline of Rhode Island, Raskin and Ted Lieu of California will introduce the impeachment resolution during Monday's pro-forma House session, which includes one article charging Trump with "incitement of insurrection."
Cicilline tweeted Sunday evening that the resolution now has more than 200 co-sponsors, nearly all of the Democratic caucus. The resolution would likely go to the House Rules Committee before it's brought to the floor.
Lire la Suite / Voir le video:
---
Please follow and like us: