By Tami Luhby, CNN
Updated 7:13 AM ET, Fri January 22, 2021
---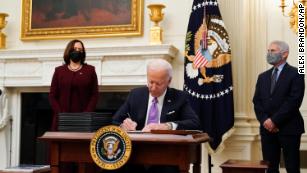 CNN-President Joe Biden is expected to sign two more executive orders on Friday — one focused on raising the minimum wage to $15 for the federal workforce and the other on expanding assistance for Americans in need — as he continues his swift efforts to overturn his predecessor's policies.
One is geared toward improving the jobs of federal workers and contractors, which was among the President's campaign commitments. It sets in motion another executive order he plans to sign within his first 100 days requiring federal contractors to pay a $15 hourly minimum wage and to provide emergency paid leave. It also directs agencies to determine which federal workers are earning less than that minimum and develop recommendations to promote bringing them up to $15 an hour.
Biden included a call to raise the national hourly minimum wage to $15 as part of the $1.9 trillion relief package he outlined last week before taking office. It is currently $7.25 an hour.
---
Commentaire:
$15/heure, des dollars americains! Hum! Au Canada, le taux de conversion est de 1.27. Et en moyenne $15 US Dollars equivaut a environ $19.00 Canadien. Comme la valeur du dollar canadien est nettement plus basse(0.77….0.78), cela signifie que les produits IMPORTES des Etats-Unis nous coutent plus cher.
Le salaire minimum devrait passer a $13.50/heure en mai 2021!(2). Cela signifie que l'ecart entre un salarie americain, et un salarie quebecois est de 5.50$/heure(CAN$).
La revendication quasi historique de $15(CAN) des salaries est comprehensible et justifie… compte tenu que de tres nombreux biens de consommation sont importes de nos voisins du Sud.
Comme scientifique, ici, il serait interessant d'avoir un indicateur qui preciserait le taux d'exploitation des salaries quebecois… cela nous permettrait de comparer mieux les differents pays.
Le Quebec est-il sur la voie de devenir les "Nouveaux Noirs d'Amerique"?
Alors qu'a la Suite de la Chine et de la reussite de son programme d'elimination de la Pauvrete, les Etats-Unis emboitent le pas… Nous, ici, on regarde passer le train de la croissance et de la reprise.
Et, j'allais oublier que cette annee, la croissance de l'economie chinoise
excedera 7%. On voit bien ici, que l'ecart se creuse entre la Chine et le Canada.
"La croissance économique de la Chine augmentera de plus de 7% en 2021, a prédit la banque suisse Crédit Suisse."(1)
(1)"L'économie chinoise augmentera de plus de 7% en 2021",Xinhua | 22.01.2021 08h44
(2)Le salaire minimum va passer à 13,50$ l'heure à compter du 1er mai 2021, Journal de Montreal, Agence QMI, Mercredi, 16 décembre 2020 16:06 MISE À JOUR Mercredi, 16 décembre 2020
---
Please follow and like us: