By Kate Sullivan and Kevin Liptak, CNN
Updated 3:52 PM ET, Thu April 22, 2021
(CNN)–President Joe Biden on Thursday kicked off a virtual climate summit attended by 40 other world leaders by announcing an ambitious cut in greenhouse gas emissions as he looks to put the US back at the center of the global effort to address the climate crisis and curb carbon emissions.
At the White House summit, which is taking place on Thursday and Friday, Biden committed the United States to reducing its greenhouse gas emissions by 50%-52% below its 2005 emissions levels by 2030. While the goals are a part of the Paris climate agreement that Biden rejoined upon taking office, they are non-binding and the administration has not rolled out a plan on how the US will meet them. Officials said Biden and his team arrived at the final number in a meeting at the White House on Wednesday morning.
In an address opening the summit, Biden laid out his vision for a greener economy in which climate change is taken seriously across all sectors and results in more jobs for the blue-collar workers he has focused on throughout his career.
"That's where we're headed as a nation, and that's what we can do if we take action to build an economy that's not only more prosperous but healthier, fairer and cleaner for the entire planet," Biden said.
"These steps will set America's economy to net-zero emissions by no later than 2050," he added.
---
Full Text: Remarks by Chinese President Xi Jinping at Leaders Summit on Climate
Source: Xinhua| 2021-04-22 22:51:43|Editor: huaxia
BEIJING, April 22 (Xinhua) — Chinese President Xi Jinping delivered a speech at the Leaders Summit on Climate via video link from Beijing on Thursday.
Please see the attachment for the translation of the full text of the speech. Enditem
Full Text: Remarks by Chinese President Xi Jinping at Leaders Summit on Climate
For Man and Nature: Building a Community of Life Together
Remarks by H.E. Xi Jinping
President of the People's Republic of China
At the Leaders Summit on Climate
22 April 2021
Honorable President Joe Biden,
Honorable Colleagues,
It is a great pleasure to join you at the Leaders Summit on Climate on Earth Day. I wish to thank President Biden for the kind invitation. It is good to have this opportunity to have an in-depth exchange of views with you on climate change, and to discuss ways to tackle this challenge and find a path forward for man and Nature to live in harmony.
Since time of the industrial civilization, mankind has created massive material wealth. Yet, it has come at a cost of intensified exploitation of natural resources, which disrupted the balance in the Earth's ecosystem, and laid bare the growing tensions in the human-Nature relationship. In recent years, climate change, biodiversity loss, worsening desertification and frequent extreme weather events have all posed severe challenges to human survival and development. The ongoing COVID-19 pandemic has added difficulty to economic and social development across countries. Faced with unprecedented challenges in global environmental governance, the international community needs to come up with unprecedented ambition and action. We need to act with a sense of responsibility and unity, and work together to foster a community of life for man and Nature.
---
Xi Jinping avance une proposition en six points pour construire une communauté de vie pour l'humanité et la nature
Rédacteurs :实习生2, Yishuang Liu
Xinhua | 23.04.2021 08h16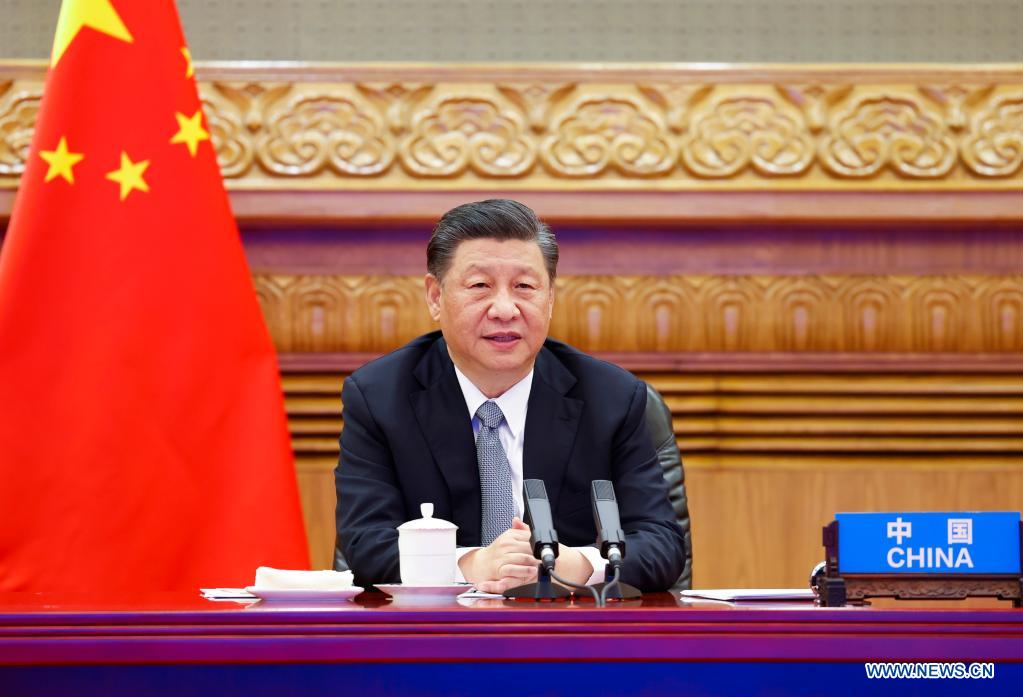 Le président chinois Xi Jinping a avancé jeudi une proposition en six points sur la construction d'une communauté de vie pour l'humanité et la nature.
M. Xi s'est ainsi exprimé à l'occasion du Sommet des dirigeants sur le climat par liaison vidéo à Beijing.
Pour construire une communauté de vie pour l'humanité et la nature, nous devons rechercher l'harmonie entre l'homme et la nature, poursuivre un développement vert, promouvoir une gouvernance systémique, mettre le bien-être du peuple au coeur de nos actions, défendre le multilatéralisme, et rester attachés au principe des responsabilités communes mais différenciées, a déclaré M. Xi.

---
Radio-Canada: Sommet sur le climat : « nous ne pouvons nous résigner à ce futur », dit Biden
Radio-Canada
2021-04-22 | Mis à jour hier à 23 h 31
Le président américain Joe Biden a appelé ses homologues à l'étranger à prendre les moyens nécessaires pour lutter contre les changements climatiques, peu de temps après que les États-Unis eurent annoncé qu'ils comptaient réduire les émissions de gaz à effet de serre de 50 à 52 % d'ici 2030 par rapport au niveau de 2005.
L'heure est venue d'écouter la science, a déclaré le 46e président des États-Unis en ouverture du sommet pour le climat, qui réunit virtuellement une quarantaine de dirigeants.
"Les signes sont indéniables; la science est indéniable", a-t-il dit, évoquant les inondations, les sécheresses, les feux de forêt, les vagues de chaleur, les ouragans et les conséquences de ceux-ci sur la santé publique.
"Les coûts de notre inaction ne cessent d'augmenter", a-t-il poursuivi, avant de saluer les opportunités d'emplois et les retombées économiques qui accompagnent pourtant le virage vers les énergies renouvelables.
Lire l'Article / Voir le reportage tele:
---
Commentaire:
La Maitrise es Sciences en Gestion de projets offert par l'Universite du Quebec, a l'epoque ou elle a obtenu son accreditation du Project Management Institute avait adopte l'approche systemique pour ses realisations. C'est assez interessant de voir que cette approche est celle priorisee par la Presidence chinoise telle qu'annoncee au Sommet des dirigeants sur le climat.
L'approche economique de la Rationalite limitee, comme dans les analyses economiques Avantages-Couts, si elles sont faites meticuleusement, elles sont tout a fait compatibles avec cette gouvernance systemique, complementaires a cette gouvernance systemique. Et,ici, la sociologie, la sociologie marxiste nous est fort utile pour comprendre les differences d'enjeux selon les compositions sociales…
Il n'y en aura pas de facile. Les taches sont ardues mais c'est le lot de l'humanite pour le Paradis Terrestre, le Garden of Eden, The Land Of Milk And Honey….
---
---
---
Please follow and like us: