By Ariane de Vogue, CNN Supreme Court Reporter
Updated 11:06 AM ET, Thu November 26, 2020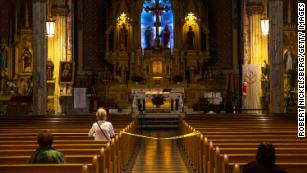 (CNN) In a 5-4 ruling, the US Supreme Court sided with religious organizations in a dispute over Covid-19 restrictions put in place by New York Gov. Andrew Cuomo limiting the number of people attending religious services.
The case is the latest pitting religious groups against city and state officials seeking to stop the spread of Covid-19, and it highlights the impact of Justice Amy Coney Barrett on the court. The decision comes as coronavirus cases surge across the country.
In the late-night decision, Barrett sided with her conservative colleagues in the dispute, while Chief Justice John Roberts joined the three liberal justices in dissent. Last spring and summer, before the death of Justice Ruth Bader Ginsburg, the court split 5-4 on similar cases out of California and Nevada, with Roberts and the liberals in the majority siding against houses of worship. Barrett was confirmed in October to take Ginsburg's seat.
Commentaire:
En toute deference pour la Cour Supreme des Etats-Unis, il semble donc que la decision d'interdire les rassemblements religieux soit une violation de la Constitution. Soit, il faut faire avec. Cependant, le maire de New-York, s'il n'a pas les capacites juridiques a interdire ce type de rassemblement, il a la capacite juridique de reguler l'exercice des droits prevus par la constitution. Il pourrait, par contre exiger que tous les participants a ces rassemblements portent le masque adequat, que tous les participants respectent la limite de 2 metres et que dans les edifices a l'entree, il y ait suffisamment de nettoyant anti-covid 19. Et toute personne qui enfreindrait ces regles de securite de base pourrait se voir imposer une amende de $1,000.00. Si le droit de se rassembler est sacre aux yeux de la Cour Supreme, le droit d'en SORTIR VIVANT est aussi SACRE. Les municipalites et les cites americaines ont le droit d'exiger le port du masque dans les metros, les autobus, les taxis… etc…
Please follow and like us: