---

By Manu Raju and Clare Foran, CNN
Updated 7:48 PM ET, Sun December 20, 2020
(CNN)Congressional leaders announced Sunday night that they have secured a deal for a sweeping $900 billion rescue package to deliver much-needed relief for small businesses, unemployed Americans and health care workers while bolstering vaccine distribution.
After days of tense negotiations and months of partisan stalemate, Senate Majority Leader Mitch McConnell announced Sunday evening that leadership from both chambers had "finalized an agreement," saying, "It is packed with targeted policies that help struggling Americans who have already waited entirely too long."
The announcement follows policy disputes and partisan finger-pointing between Democrats and Republicans that fueled uncertainty over whether lawmakers would manage to close out a deal or whether talks would collapse with lawmakers soon set to leave Washington for the holidays and the end of the 116th Congress in sight.
In a joint statement on the deal, House Speaker Nancy Pelosi and Senate Minority Leader Chuck Schumer said, "We are going to crush the virus and put money in the pockets of the American people."
The full details of what will be in the package have yet to be released, and lawmakers must now race to pass another stop-gap measure to avert a government shutdown ahead of a midnight deadline and buy additional time to hold votes on the pandemic relief deal. However, the package is expected to include $600 direct stimulus payment for Americans under a certain income level, among many other programs aimed at helping the economic fallout of the pandemic.
The House passed a one-day stopgap later Sunday night to avoid a government shutdown at midnight. Leaders will need consent of all 100 senators to vote on the stopgap Sunday night in the Senate.
The House will vote on Monday on the final Covid relief package along with the $1.4 trillion omnibus spending bill for a new fiscal year, according to House Majority Leader Steny Hoyer, who relayed that message to Democrats on a caucus call, sources said.
What's in the relief deal
---
Commentaire: La Difficulte des accords budgetaires de "derniere minute" C'est possiblement du a la difference des Majorites a la Chambre des representants et au Senat! A ce chapitre il faut attendre Janvier(elections en Georgie).
---
---
---
CNN-Here's what's in the second stimulus package


By Katie Lobosco and Tami Luhby, CNN
Updated 10:45 PM ET, Sun December 20, 2020
---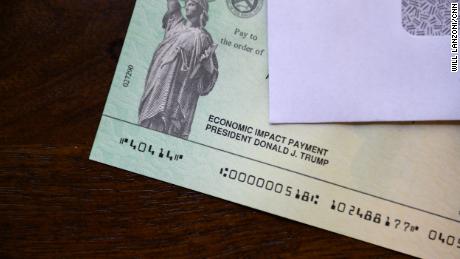 Washington (CNN)Leaders in the House and Senate reached an agreement late Sunday on a $900 billion pandemic relief bill that includes enhanced unemployment benefits and direct cash payments.
There were several changes made from a proposal put forward nearly two weeks ago by a bipartisan group of lawmakers. Direct stimulus checks were brought in at the last minute. Direct aid to states and liability protections for companies were left out.
If the new bill passes, it will be the second-largest federal stimulus package after the $2 trillion CARES Act that Congress approved in March.
Lawmakers in both chambers are expected to vote Monday and send the bill to President Donald Trump's desk for his signature — just in time to get something done before the end of December, when several aid programs in the CARES Act are set to expire, including key pandemic jobless assistance measures and eviction protections.
The full bill text had not been released as of Sunday night. Here's what we know so far from summaries released by Democratic and Republican leadership:
Stimulus checks
…
---
---
Et, pour faire suite au commentaire que j'ai emis auparavant (plus haut)…
---
---
Et, a la fois CNN et The New-York Times Breaking News ont publie la nouvelle qui suit…
---
CNN-Congress approves long-awaited $900 billion Covid rescue package, overcoming months of gridlock

By Clare Foran and Manu Raju, CNN
Updated 12:01 AM ET, Tue December 22, 2020
---
Washington (CNN) – Congress voted Monday evening to approve a far-reaching $900 billion Covid relief package that promises to accelerate vaccine distribution and deliver much-needed aid to small businesses hit hard by the pandemic, Americans who have lost their jobs during the economic upheaval and health care workers on the front lines of the crisis.
The White House has said that President Donald Trump will sign the legislation once it reaches his desk.
…
---
New-York Times-The Morning:
By David Leonhardt
Good morning. Congress passes a $900 billion stimulus bill that economists call important — and flawed.
---
The cost of an unfocused stimulus
For many Americans, the coronavirus recession has done almost no damage to their finances. They still have their jobs, and their expenses have gone down while they've been stuck mostly at home. Their homes have not lost value, unlike during the financial crisis of 2007-9. If they are fortunate enough to own stocks, their portfolio is probably worth more than a year ago.
Of course, millions of other Americans are struggling mightily. Nine million fewer people are employed than a year ago. Others are coping with big medical bills. Many small businesses have closed or may soon. State and local governments are planning deep cuts.
The $900 billion stimulus bill that Congress passed last night will provide a lot of help to the economy. But many economists believe that it also has major flaws. Among them: It isn't especially targeted at the parts of the economy that need help.
A central part of the stimulus are one-time checks that the government will mail to people. Any household with income below $150,000 will likely receive at least $1,200. Families with children will receive more.
---
Mother Jones-Congress Passed a New COVID Relief Bill. It's Not Nearly Enough.
Hannah Levintova
Reporter
Experts say it will buy struggling families a few months, at best.
Let our journalists help you make sense of the noise: Subscribe to the Mother Jones Daily newsletter and get a recap of news that matters.
Update: Congress passed the COVID relief package late Monday night.
Congress is poised to pass a long-awaited $900 billion COVID-relief package that will bring temporary economic assistance to struggling families, as the country approaches a new year and the 11th month of a pandemic that has killed almost 320,000, upended livelihoods, shuttered businesses, and plunged millions into poverty—even as the nation's wealthiest citizens have fared quite well.
The bill's additional unemployment benefits alone will keep nearly 5 million people from falling into poverty next month. But given that vaccines are unlikely to be widely available until the mid-summer, experts say this stimulus will provide, at best, a temporary and incomplete solution for families and for the broader economy.
---
"Congress has given itself little choice but to immediately get to work on the next economic stimulus package."
---
The limited aid means workers won't have a substantial cushion "until a point closer to when the vaccine can roll out and people can go back to their shuttered occupations," Andrew Stettner, senior fellow at the Century Foundation, says in a statement. "Congress has given itself little choice but to immediately get to work on the next economic stimulus package as soon as President-elect Biden takes office."
Please follow and like us: