By David Cruz
Jan. 23, 2021 3:01 p.m.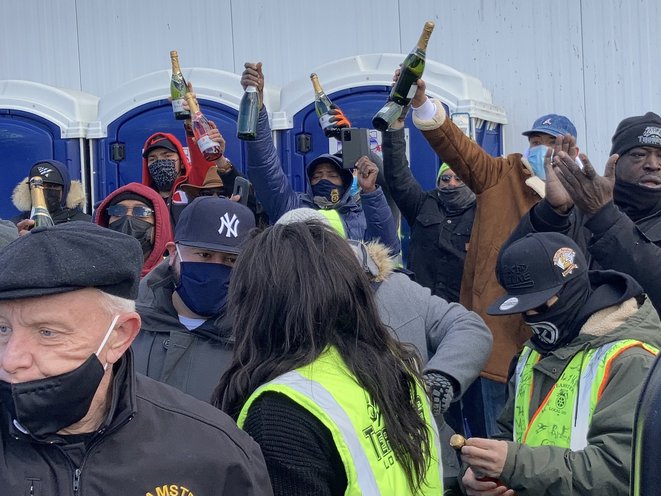 The union representing 1,400 workers at the Hunts Point Produce Market popped open champagne bottles as they celebrated the end of a nearly weeklong strike for increased pay in their next three-year contract.
The warehouse workers and drivers that collectively make up Teamsters Local 202 hailed the ratification of the contract on Saturday. This came after the vote was taken at 10 a.m. at a so-called neutral zone within the distribution hub's property. The contract was approved by 97% of the union's members.
Shortly after the ratification, members took a victory lap outside the strike area they picketed for nearly a week as cars passing by honked their horns in solidarity, and crowds shouted chants of "si se puede" ("yes we can"). As members raised a glass in celebration, another member was seen holding up a toy replica of Mjolnir, the mythical hammer used by Marvel Comics' Thor.
The ratification of the contract ends the strike that began on January 17th after the union's negotiating team could not come to a consensus with the Hunts Point Cooperative Board. Union members had asked for a $1 increase to their hourly pay and 60 cents more pay to cover their health insurance, emphasizing that workers kept working throughout the pandemic. The company initially counter-offered with a 32-cent hourly wage increase and 60-cent hourly increase towards their health insurance coverage. The strike—the first since 1986–raised concerns over how disruptive it will be to the city's food supply, where 60% of its fruits and vegetables come from the massive market.
---
---
Alexandria Ocasio-Cortez on Win A Battle.
---
Please follow and like us: