La COP-26 qui s'est terminee Dimanche dernier, s'est soldee globalement par un echec, malgre l'adoption d'une declaration commune que le PM canadien a accepte et signee.(1) Elle engage les tribunaux canadiens, meme si les objectifs eux-memes ne sont pas obligatoires, comme toutes les autres ententes.
Voici 2 Textes du Guardian, l'un porte sur les modifications apportees a cette declaration par les "autochtones", l'autre sur le constat de la faiblesse de l'accord(Imputabilite, Obligation de reussite), de l'echec de la COP-26 mais des perspectives, une issue, maintenant "obligee" pour les peuples du monde.
Abordons le premier de ces 2 articles forts importants, tres importants du moins pour la population canadienne.
---
Indigenous peoples had a clear vision for Cop26, but it has not been delivered
Opinion
Indigenous peoples
Victoria Tauli-Corpuz
Victoria Tauli-Corpuz is the director of Tebtebba Foundation (Indigenous Peoples' International Centre for Policy Research and Education) in the Philippines
World leaders recognise the importance of indigenous rights, but still haven't committed enough to supporting our fight
Mon 15 Nov 2021 13.44 GMT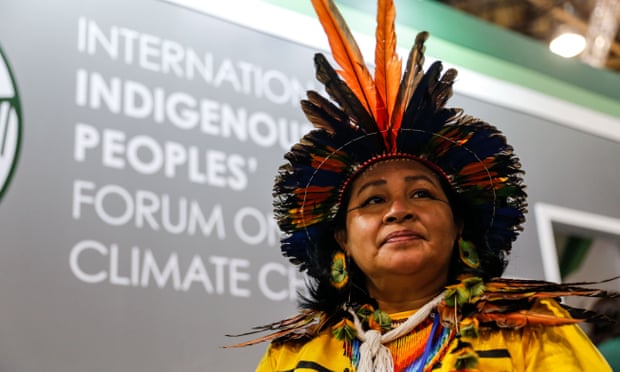 Indigenous peoples came to Cop26 in Glasgow with clear goals that we wanted to see reflected in the final results. Now it is over, we don't see the path forward we were hoping for. There is still too much wrangling between the developed and the developing countries, with the developed nations blocking much-needed agreements on rights and funding. And overall progress towards implementing the commitments made in the Paris agreement is too slow.
We wanted to ensure that the decisions included the need to respect human rights, including indigenous peoples' rights, in undertaking adaptation, mitigation, and loss and damage measures to deal with the immediate effects of the climate crisis.
We also wanted Cop26 to adopt the local communities and indigenous peoples platform, as agreed by the facilitative working group, an initiative that would ensure indigenous peoples and their knowledge would be included in the United Nations Framework Convention on Climate Change process.
It is vital that indigenous peoples are able to directly access finance, so that when they undertake actions on the climate crisis it is from a position of strength, and they are ensured the protection of rights to own, control and manage territories, especially their forests.

It was also our view that article 6 of the Paris agreement on market and non-market mechanisms for emissions trading and offsets should include us when these are designed and implemented, and our rights should be protected. Also that an international grievance mechanism be established which we can use in case our rights are violated in the implementation of article 6.
I am happy to see the preamble of the Cop26 cover decision states that parties "respect, promote and consider their respective obligations on human rights, the right to health, the rights of indigenous peoples". This decision also recognises and acknowledges the important role of stakeholders, including indigenous peoples, in "averting, minimizing and addressing loss and damage associated with the adverse effects of climate change".
…
---
Commentaire:
Ici, il y a quelque chose qui nous montre bien le caractere cynique du Gouvernement Canadien. Il s'engage devant la Communaute Internationale a ""respect, promote and consider their respective obligations on human rights, the right to health, the rights of indigenous peoples" et en meme temps, il refuse systematiquement qu'une Commission d'Enquete Judiciaire sur le cas des plus de 1000 corps d'enfants autochtones decedes dont certains enterres dans le sous-sol d'un pensionnat catholique ou d'autres dans des cimetieres clandestin… UN DENI DU DROIT DES AUTOCHTONES A UNE JUSTICE PLEINE ET ENTIERE.
Le second fort important aussi, concerne d'une part l'analyse de M. Mombiot sur les Resultats de la COP-26, mais aussi sur les perspectives d'avenir pour les populations du monde.
---
After the failure of Cop26, there's only one last hope for our survival
Opinion
Climate crisis

George Monbiot
Sun 14 Nov 2021 14.48 GMT
---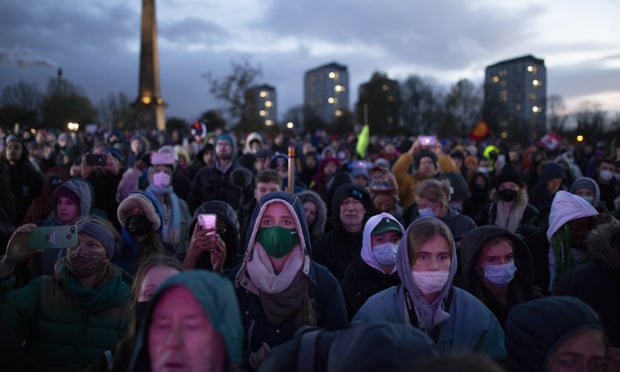 Now it's a straight fight for survival. The Glasgow Climate Pact, for all its restrained and diplomatic language, looks like a suicide pact. After so many squandered years of denial, distraction and delay, it's too late for incremental change. A fair chance of preventing more than 1.5C of heating means cutting greenhouse gas emissions by about 7% every year: faster than they fell in 2020, at the height of the pandemic.
What we needed at the Cop26 climate conference was a decision to burn no more fossil fuels after 2030. Instead, powerful governments sought a compromise between our prospects of survival and the interests of the fossil fuel industry. But there was no room for compromise. Without massive and immediate change, we face the possibility of cascading environmental collapse, as Earth systems pass critical thresholds and flip into new and hostile states.
…
A fascinating paper published in January in the journal Climate Policy showed how we could harness the power of "domino dynamics": non-linear change, proliferating from one part of the system to another. It points out that "cause and effect need not be proportionate", a small disturbance, in the right place, can trigger a massive response from a system and flip it into a new state. This is how the global financial crisis of 2008-09 happened: a relatively minor shock (mortgage defaults in the US) was transmitted and amplified through the entire system, almost bringing it down. We could use this property to detonate positive change.
…
For example, as the performance of batteries, power components and charging points improves and their costs fall, the price of electric cars drops and their desirability soars. At this point (in other words, right now), small interventions by government could trigger cascading change. This has already happened in Norway, where a change in taxes made electric vehicles cheaper than fossil-fuel cars. This flipped the system almost overnight: now more than 50% of the nation's new car sales are electric, and petrol models are heading for extinction.
---
Commentaire:
Ici, l'avenir de la planete est en jeu, et elle repose sur la capacite des populations a reclamer, voire imposer les changements requis, villes par villes, pays par pays. Elle ne doit compter que sur elle-meme. A vous de jouer!
Et voila, qu'enfin, la Revolution Verte(2) (Rose et Rouge) frappe de plein fouet les pays industrialises s'etant manifestee d'une maniere moins globale, jadis, il y a des decennies dans de nombreux pays en developpement. Il etait temps.
Dans la foulee de la decolonisation, en Afrique, en Asie, en Amerique latine, plusieurs pays ont decide de lancer leur revolution agraire de facon a assurer l'alimentation de leur population. C'etait a l'epoque de la guerre froide et… ces "revolutions vertes" etaient assez mal vues en Occident, etant accusees d'etre l'oeuvre des complotistes communistes sovietiques. Apres la Revolution Culturelle, la Republique Populaire de Chine entrepris une vaste modernisation de son agriculture, meme si cela n'etait pas appelee de la meme maniere, cela poursuivait les memes fins. Ici, en Chine, la politique environnementale se situe dans la meme perspective que leur "revolution agraire", elle n'en n'est que la continuite. C'est ici, qu'on a l'impression que la situation de l'environnement est quelque chose de recent, nouveau. Pas du tout. Si on a cette impression, c'est que pendant 50-60-70 ans on a melange tout dans la melangeur d'idees de la pub et des mass media(et cela a donne naissance a la pensee pauvre, la pensee unique), nous faisant oublier la continuite de l'histoire, des preoccupations humaines.
C'eat ainsi que l'alliance strategique des paysans(vert), des femmes(rose) et des travailleurs(rouge) trouvent sa verite socio-economique dans cette epoque historique du monde.
---
(1) https://www.canada.ca/fr/environnement-changement-climatique/nouvelles/2021/10/le-ministre-stevenguilbeault-accompagnera-le-premier-ministre-justintrudeau-et-la-delegation-canadienne-a-la-conference-des-nations-unies-sur-les-c.html
(2) Revolution agraire.
Please follow and like us: