---
www.facebook.com/watch/?v=3584186018338469
---
CNN-Nancy Pelosi reelected speaker Sunday despite narrower majority
By Alex Rogers, Lauren Fox and Alison Main, CNN
Updated 6:16 PM ET, Sun January 3, 2021
(CNN)Speaker Nancy Pelosi won a fourth non-consecutive term to lead the House of Representatives, suffering a handful of defections in a narrow vote after her party lost seats but kept control of the chamber.
After serving for 17 years in charge of the House Democrats, Pelosi ran unopposed in her election. She is the first woman to be speaker, leading the House from 2006 to 2011, and since the Democrats took back the House in 2018.
"It gives (me) great pride to serve as speaker of the most diverse House of Representatives in the history of our country," said Pelosi.
Pelosi had a slim margin for error, facing the Democrats' smallest majority in decades and a pandemic that has hindered attendance. Some in her caucus have agitated for new leadership, and Republicans were unified against her. She received 216 votes, which was enough considering a handful of members either voted present or the seats were vacant. House Republican leader Kevin McCarthy received 209.
"If Nancy can do anything, it is that she knows how to count," said Rep. Gerry Connolly, a Democrat from Virginia. "She is very aware of the fact that with a slim majority — with some members who voted against her two years ago — there is gonna have to be an effort to persuade them that that was then and this is now. We cannot afford to have uncertainty about the speakership."
---

The challenges facing Joe Biden in 2021
Analysis by Stephen Collinson
Updated 7:58 PM ET, Sun January 3, 2021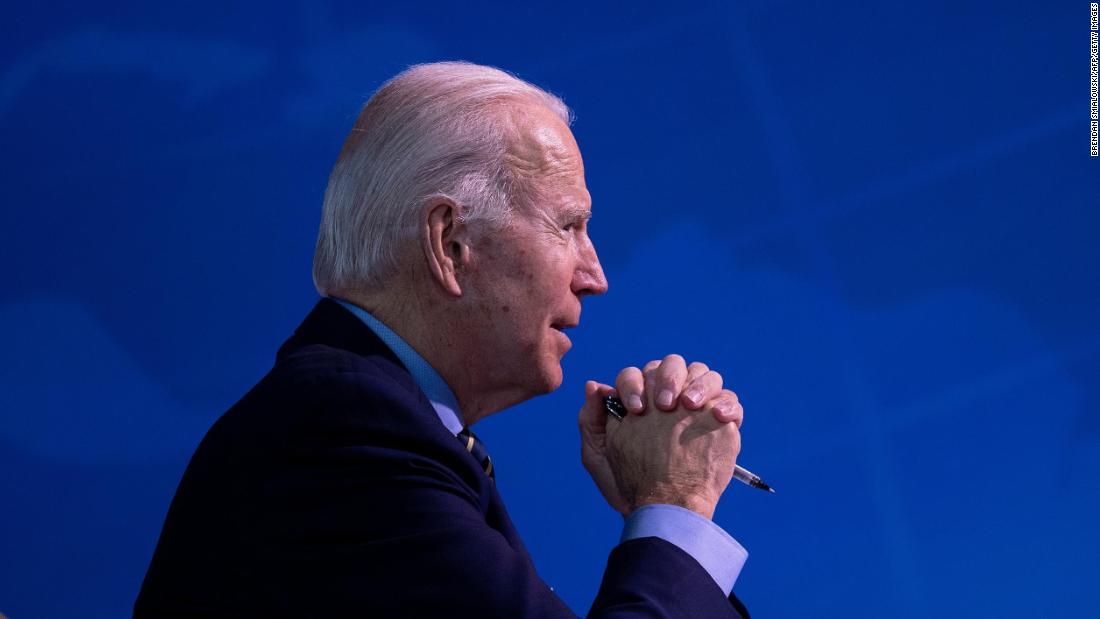 Editor's Note: "This was excerpted from the January 1 edition of CNN's Meanwhile in America, the daily email about US politics for global readers. Click here to read past editions and subscribe."
(CNN)Welcome to a new political year in America.
"This was excerpted from the January 1 edition of CNN's Meanwhile in America, the daily email about US politics for global readers. Click here to read past editions and subscribe."
(CNN)Welcome to a new political year in America.
A new presidency is a time of renewal, and this country — like the rest of the world — badly needs hope amid the darkest winter of modern times, as Covid-19 ravages the population and suppresses the joys of normal life.
Donald Trump will soon be a private citizen. But largely because of his divisive and democracy-tainting term, his successor Joe Biden may be tested more than any new US President since the 1930s. The pile of crises that the new commander in chief inherits in this new year could dwarf the Great Depression-era threat to capitalism confronting President Franklin Roosevelt in 1933.

America's wretched partisan fury means Biden has only the narrowest of paths to forging successful policy responses to America's big problems. Creating a meaningful presidency from such unpromising beginnings will take extraordinary political skill, missteps by his political enemies and luck.
What Biden faces in 2021
The pandemic
The worst public health crisis in 100 years is still raging out of control. There are already signs that the Trump administration's botched response to the virus is being replicated by a failure to plan for the vaccine's distribution and administration. Biden's political fate depends on finding a way to quickly scale up the manufacture and administration of hundreds of millions of doses, in the most complex logistical operation in generations.
The economy
Millions of Americans are unemployed, and the rampant spread of Covid-19 threatens to plunge the economy back into an abyss. The latest last minute relief bill extending unemployment protections, helping small businesses and staving off evictions is only a temporary fix. And Republicans' willingness to defy Trump on $2,000 stimulus payments suggests how difficult it will be for Biden to strong-arm Congress into agreeing to his own massive stimulus plan — one critical to igniting growth, vaccinating the country, and getting kids back in school.
---
---
www.facebook.com/watch/?v=234109968151883
---
CNN-Biden says electing Georgia's Ossoff and Warnock would lead to $2,000 stimulus checks

By Kate Sullivan, CNN
Updated 8:53 PM ET, Mon January 4, 2021
(CNN)President-elect Joe Biden said electing Democrats Jon Ossoff and Rev. Raphael Warnock in Tuesday's runoff elections would end the gridlock in Washington and allow a Democrat-controlled Senate to provide $2,000 stimulus checks to Americans.

"If you send Jon and the Reverend to Washington, those $2,000 checks will go out the door, restoring hope and decency and honor for so many people who are struggling right now," Biden said, making his closing argument for the Democrats at a campaign event in Atlanta on Monday.

"And if you send (Republican Sens. David Perdue and Kelly Loeffler) back to Washington, those checks will never get there," Biden said. "It's just that simple. The power is literally in your hands."

Biden's declaration come just days after Senate Majority Leader Mitch McConnell, a Kentucky Republican, rejected a bill that would have increased direct stimulus payments from $600 to $2,000.
Lire la Suite / Voir le video:
---
Hey! Guys! What happens to the Hearth… in Georgia today?
---
---
https://www.facebook.com/OcasioCortez/posts/3560365464054112
Et les resultats…
---
CNN-Warnock makes history in winning Georgia runoff, CNN projects, as control of Senate down to Perdue-Ossoff race

By Alex Rogers, CNN
Updated 5:13 AM ET, Wed January 6, 2021
---
(CNN)Rev. Raphael Warnock, the senior pastor of Ebenezer Baptist Church in Atlanta, was elected on Tuesday to be the first Black senator from Georgia, CNN projected early Wednesday morning, a repudiation of Republican Sen. Kelly Loeffler and her adherence to President Donald Trump.
The control of the US Senate now comes down to Republican David Perdue, who is running to keep his seat against Democrat Jon Ossoff.
Warnock is the first Georgia Democrat elected to the Senate in 20 years, and his election is the culmination of years of voter registration drives conducted by former state House Democratic leader Stacey Abrams and other activists. President-elect Joe Biden also won Georgia, the first time for a Democratic presidential candidate since the 1990s.
After no Georgia Senate candidate received 50% of the vote in November, the races turned to two runoffs. While Ossoff and Warnock ran on a unity ticket, Trump refused to concede his own loss, sparking a fight within the Republican Party and disenchanting some of his supporters, who believed his false claims that the vote was rigged.
---
En regardant les resultats ci-haut, on peut raisonablement conclure que les Democrates ont gagne les elections senatoriales de Georgia, meme si les resultats definitifs ne sont pas encore connus et qu'il se pourrait que les resultats reels imposent une conclusion differente.
---
Please follow and like us: