By Ben Westcott and Jennifer Hansler, CNN
Updated 1:13 AM ET, Sun April 18, 2021
---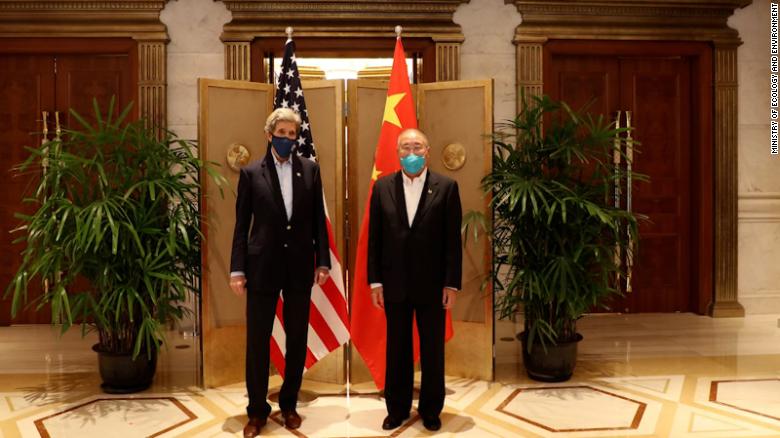 Hong Kong (CNN)-The US and China have agreed to cooperate on climate change after two days of high-profile meetings in Shanghai, despite rising tensions between the two countries.
In a joint statement released on Sunday, Washington and Beijing said the climate crisis "must be addressed with seriousness and urgency" and agreed to work together to "strengthen" the implementation of the Paris Agreement.
"The United States and China will continue to discuss, both on the road to COP 26 and beyond, concrete actions in the 2020s to reduce emissions aimed at keeping the Paris Agreement-aligned temperature limit within reach," the statement said.
The announcement followed two days of talks between US Special Presidential Envoy for Climate John Kerry and China Special Envoy for Climate Change Xie Zhenhua in Shanghai on Thursday and Friday.
US President Joe Biden, who has taken a stronger stance on dealing with climate change than his predecessor Donald Trump, is hoping the US will be able to work with Beijing to address carbon emissions while maintaining a firm stance on issues of trade, technology and human rights.
---
Xinhua-Globalink-China-U.S. Joint Statement Addressing the Climate Crisis
Source: Xinhua| 2021-04-18 10:16:36|Editor: huaxia
China-U.S. Joint Statement Addressing the Climate Crisis-Full Text
BEIJING, April 18 (Xinhua) — China and the United States have issued a joint statement addressing the climate crisis after talks between China Special Envoy for Climate Change Xie Zhenhua and U.S. Special Presidential Envoy for Climate John Kerry from Thursday to Friday in Shanghai.
The following is the full text of the statement:
China and the United States are committed to cooperating with each other and with other countries to tackle the climate crisis, which must be addressed with the seriousness and urgency that it demands. This includes both enhancing their respective actions and cooperating in multilateral processes, including the United Nations Framework Convention on Climate Change and the Paris Agreement. Both countries recall their historic contribution to the development, adoption, signature, and entry into force of the Paris Agreement through their leadership and collaboration.
Moving forward, China and the United States are firmly committed to working together and with other Parties to strengthen implementation of the Paris Agreement. The two sides recall the Agreement's aim in accordance with Article 2 to hold the global average temperature increase to well below 2 degrees C and to pursue efforts to limit it to 1.5 degrees C. In that regard, they are committed to pursuing such efforts, including by taking enhanced climate actions that raise ambition in the 2020s in the context of the Paris Agreement with the aim of keeping the above temperature limit within reach and cooperating to identify and address related challenges and opportunities.
Both countries look forward to the US-hosted Leaders Summit on Climate on April 22/23. They share the Summit's goal of raising global climate ambition on mitigation, adaptation, and support on the road to COP 26 in Glasgow.
China and the United States will take other actions in the short term to further contribute to addressing the climate crisis:
a. Both countries intend to develop by COP 26 in Glasgow their respective long-term strategies aimed at carbon neutrality/net zero GHG emissions.
b. Both countries intend to take appropriate actions to maximize international investment and finance in support of the transition from carbon-intensive fossil fuel based energy to green, low-carbon and renewable energy in developing countries.
c. They will each implement the phasedown of hydrofluorocarbon production and consumption reflected in the Kigali Amendment to the Montreal Protocol.
---
Commentaire:
Cet accord bi-lateral est peut-etre l'accord le plus important des 10 dernieres annees. Tout le monde connait la capacite a realiser ses plans de modernisation. Et la nouvelle approche de la gouvernance intelligente des administrations publiques lancee il y a quelques annees va pouvoir etre partagee avec les Etats-Unis via la collaboration "Environnementale". Ce qui permettra aux Etats-Unis de renforcer ses actions sur le plan local dans le cadre du New Green Deal. Et, cela ne peut-etre benefique qu'aux deux parties ainsi qu'a leurs partenaires respectifs. Il faut aussi preciser que la cooperation entre les firmes est aussi quelque chose d'ardue aux Etats-Unis. La cooperation entre les firmes avait ete tres en vogue dans les belles annees de la course a la lune au sein de la NASA et aussi au sein de la station spatiale internationale. Il y a encore, en Amerique, des immenses failles dans l'Internet pour tous… et c'est en bonne partie due au manque de collaboration entre les firmes. On entend souvent dire que les corporations sont la pour ameliorer la situation economique de l'ensemble de la societe, il arrive malheureusement que pour des questions de "profitabilite" les interets corporatifs rempalce les interets sociaux, les interets des communautes… Il faut alors intervenir et mettre en place les mecanismes appropries aux ajustements d'autant plus difficile dans un cadre politique marque par une partisannerie excessive(comme ces dernieres annees l'ont demontre dans le cas de la gouvernance Republicaine).
---
Please follow and like us: